Drain Clearing is as Easy as 1-2-3!
Step 1. Clogged drain.
Step 2. Call Us or fill out the form to the right!
Step 3. **Plumber arrives; Unclogs drain.
When a Seaside Plumber arrives they are going to assess the clog and get the water flowin'. They will also run a camera down the drain further to make sure that the clog was not caused by something more invasive. If we cannot get the water flowin', the service call will be free. Please read below for all the details of this offer.
Clear any one drain in your home once every 90 days.

Additional charges may apply if access to the drain is not readily available (i.e. removing and reinstalling a toilet or a drain assembly).

Clean-out must be accessible at ground level or the interior of the home.

Residential service ONLY.
Rest Assured, if your specific scenario does not meet the $123 or free special, we will stop and give upfront pricing to help you get your system back in order again.
Includes our standard Plumbing Health Check. We'll take a look at your whole plumbing system and leave you with a Health Check Report Card.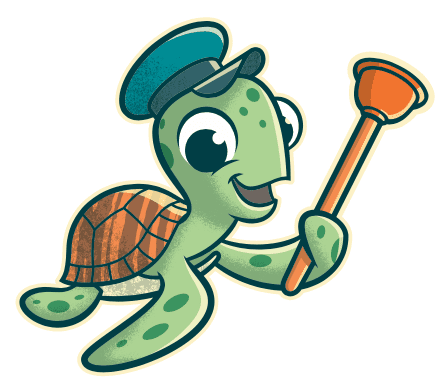 What You Can Do to Prevent Clogs
Use screens/strainers to keep hair and food from going down the drain

Do not pour grease or oils down the drain

Do not use your garbage disposal as a trash can, certain things should never go down your disposal, including: poultry skins, celery, egg shells, sweet potatoes or potato skins, coffee grounds, pasta or any fibrous vegetable

Make sure you have a waste basket in your bathroom so guests don't use the toilet as a trash can
Blockages can get very ugly, very fast, so we recommend calling at the first sign of trouble.